About the Council
The Council of Industry-Academia-Government Collaboration
The Council of Industry-Academia-Government Collaboration, Field for knowledge Integration and Innovation (FKII) was established on April 21st 2016 by the Ministry of Agriculture, Forestry and Fisheries of Japan.
The council has encouraged the networking and collaboration among various industries and fields such as private firms, producers, farmers, universities and R&D institutions.
Membership is open to all interested in R&D and innovation related to agriculture, forestry, fisheries and food industries.
Please contact the secretariat of the council if you are interested in joining the FKII.


The structure of the FKII
FKII is composed of three layers as illustrated below: 1) the Council, 2) R&D Platform, and 3) Research Consortium.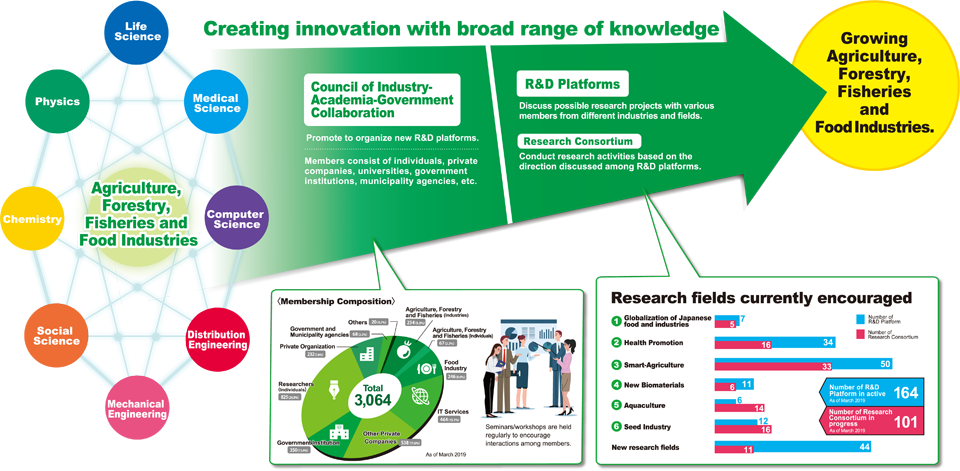 1) Council of Industry-Academia-Government Collaboration

Providing the members networking opportunities to exchange ideas and information for possible future collaboration.
Forming the R&D platform with members which have common interests, topics, ideas and problems.
Research Fields encouraged by the FKII
The FKII is promoting innovative R&Ds to strengthen agriculture, forestry, fisheries and food industries, and to create new markets.

The following 6 categories are currently encouraged by the FKII.

1) Globalization of Japanese Food and Industries
2) Health Promotion
3) Smart-Agriculture
4) New Biomaterials
5) Aquaculture
6) Seed Industry